Main Content
How can design businesses respond to the climate crisis? | DBA webinar
Join us on Thursday 13th May at 3pm when Patrick Burgoyne, ex-Editor of Creative Review will be interviewing Sophie Thomas and Alexie Sommer of Urge Collective and Matt Hocking of Leap Design about the impact design is having on the planet and the paradigm-shifting creative thinking required to tackle climate change.
What does it mean to declare a climate emergency as a designer? What does it take for a design business to become a B Corp? And how can you create a sustainable business that meets the needs of your clients whilst rising to the challenges of the climate crisis?
We'll be exploring how you can develop sustainable practices in your own business, and how you can use that expertise to influence the way your clients behave.
This live session will be an opportunity for you to get involved, posing your questions to the panel and feeding in your opinions and thoughts in live polls throughout the discussion. Be part of the conversation around this important subject and further your journey to developing a credible sustainable proposition.
Thursday 13 May, 3-4pm BST. Open to all and free to attend, register here. 
Meet the panel
Patrick Burgoyne
Editor of Creative Review magazine from 1999 to 2019. Author of several books on design and visual culture and contributor to publications including The Guardian, The Observer and The Independent.
---
Matt Hocking
Founder of Leap a certified B Corp design agency since 2016. Designer Director, Consultant, Mentor/Coach & B Leader. FRSA. 20+ years of triple bottom line design and action.
---
Alexie Sommer
Designer and Communicator focused on the intersection between design creativity, business sustainability and authentic communication, passionate about delivering positive impact through strategic thinking and design. Collaborated with Thomas Matthews, The Guardian & Observer, LOCOG, British Council and Philips electronics.
---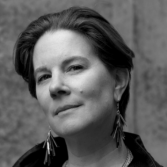 Sophie Thomas
Founding Director of Thomas Matthews communications studio with over two decades of experience in sustainable design and behaviour change. Created and led the Great Recovery project with RSA & Innovate UK investigating circular economy. Working with companies around the globe as a circular design expert and passing on knowledge to the design industry.