Main Content
What Clients Think 2021 report launch | Exclusive webinar for DBA Members
Do you want to get under the skin of what clients really think? How can your new business endeavours cut through the noise and help you to stand out in a crowded market? What internal processes could be tweaked to make your client relationships more successful and help you to retain and grow your existing clients? Following a tumultuous year, what does the client world look like today and what does that mean for your business?
Don't miss the launch of Up to the Light's highly anticipated 'What Clients Think' report in association with the DBA.
In this webinar exclusively for DBA members, DBA Expert, Up to the Light founder and author of the report Jonathan Kirk, will take us through the main findings of the brand new 'What Clients Think' report and answer your questions.
Based on 580 client interviews conducted on behalf of design agencies, this highly respected and influential annual report is now in its 7th year and is a fascinating snapshot of the client/agency relationship. However, this has been a year like no other. Find out how Covid has challenged clients, shifted their perspectives and influenced their relationships with agencies.
Up to the Light is the leading provider of client surveys to the UK design industry, so this is an unmissable opportunity to hear the very latest client viewpoint across different markets and levels of seniority.
Join us live from 3-4pm on Thursday 4 March, DBA members click here to login and register now.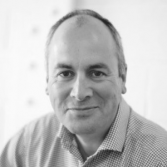 Jonathan Kirk
Founder of Up to the Light
Jonathan brings over twenty years top flight experience. His senior roles have included New Business Director of Fitch, the global brand design group, and Business Development Director of EHS Brann, one of Europe's largest direct marketing agencies.
Jonathan advises a wide range of agencies and professional services firms regarding all aspects of business growth. Importantly, Jonathan frequently partners with agencies to provide brand positioning and brand strategy for end clients. So many consultants become theorists and teachers, slightly removed from reality, but Jonathan is continually involved at the sharp end presenting, pitching and delivering high profile strategic work for major brands. This is of huge benefit to his clients.
He is a regular conference speaker and trade press contributor, and is also a member of the Design Business Association's Experts Register.