Main Content
2019 DBA Design Effectiveness Awards Ceremony and Dinner
Join us at the prestigious DBA Design Effectiveness Awards ceremony from 6pm on Wednesday 12 June at The Royal Horticultural Halls, London SW1P 2PB.
The DBA Design Effectiveness Awards celebrate and champion the integral role design plays in transforming businesses, improving societies and enhancing people's lives. They celebrate the collaboration between the business commissioning design and the agency delivering it – bringing design and business ever closer.  
The evening's highlights will include the announcement of the gold, silver and bronze winners, and the winner of the highly coveted Grand Prix Award. During the night you'll hear the powerful stories behind this year's shortlist and enjoy a superb three-course dinner.
Join the design industry at the glittering ceremony to toast the 58 shortlisted winning entries and the contribution they've made to business and the design industry.
Celebrate the transformative power of design – purchase your tickets for the DBA Design Effectiveness Awards ceremony here.
Agenda:
18:00 Drinks reception
19:00 Dinner
21:00 Awards 
22:30 Post awards drinks
00:00 Close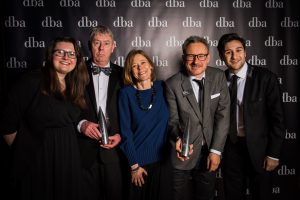 Sponsored by Red Setter Official PR Partner of the DBA Design Effectiveness Awards.