Main Content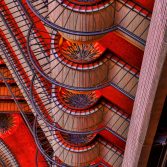 02/05/2018
Delightful details: Nailing the customer brand experience
If "success is the sum of details"*, which businesses are nailing a great customer brand experience in this respect? 
The speakers from our forthcoming event Who owns the customer brand experience? share their thoughts: 
Firmdale Hotels
"The overall design of each space and room, and the immaculate attention to every detail is magical. From a bottle of the hotel's signature scent pillow spray on your first night, the fresh flowers with room service tray, to whimsical 'Mythical Creatures' Wedgwood bone china, no detail is left unloved.
Every member of their team – from the front desk to room service – performs with excellence and pride, making this brand, in my view, one that truly delivers a superb holistic brand experience across every consumer touch point."
Deklah Polansky, Creative Director and Partner, studio'farrell and formerly Global Brand Experiential Design Director, Coca-Cola
Nespresso
"There's no shortage of contenders but recently I'd have to say Nespresso – from the meticulous curation of their Boutique stores, infectious knowledge of their coffee experts and intuitive minimalist design of their coffee machine and accessories range, all the way through to the immediately recognisable naming, packaging and systematic colour-coding of their distinctive ranges – effortlessly re-created online and supported with all the helpful 'customer-first' delivery, pick-up, help, care and membership services any hard-core coffee aficionado could want.
A brand that's getting the basics spot-on, making the complex simple and never forgets coffee is at the heart of everything they do, but bringing consumer pleasure to why they're doing it."
Ralph Ardill, Founder, Ralph Ardill Limited and formerly Head of Strategy, Imagination
REI
"For me, a great customer brand experience is when the brand stops selling products and starts providing great service that prevents what I call 'collateral damages', while increasing positive emotional connections along the customer life cycle.
One brand that does this well is REI. They have successfully positioned themselves as an outdoor lifestyle brand with a great customer service experience in all channels – in person, at the store, to online, with robust FAQ, repair / refund / exchange policy to promote customers to be the brand advocate by helping them to share stories, celebrating their great customer service success stories.
The attention to details for these touch points have effectively addressed the underlying customer needs around saving time, fast service turnaround, price match, and positive emotional feelings interacting with the brand."
Kevin Lee, Executive Director and Vice President, Head of Design and Co-Innovation at Visa
Pet Smart
"We have an 'emotionally delicate' Boston Terrier named Liam. When he goes in for his monthly 'Spa wash' we are always surprised and delighted to receive a hand written report about his nails, coat, glands and his demeanor during the time spent there.
The staff are loving and kind and it's clear that the animals feel safe and happy. For a low cost, and considering that this is a mass retail experience, you often receive more documentation, care and information about your pet than from your own Doctor's visit."
Deklah Polansky, Creative Director and Partner, studio'farrell and formerly Global Brand Experiential Design Director, Coca-Cola
*"Success is the sum of details" Harvey S. Firestone