Main Content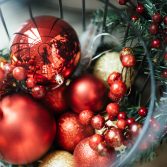 14/12/2017
Deck the halls
We've put on our festive hats at the DBA to bring you our recommendations for all things seasonal – from Christmas markets to edible wreaths, Gong Baths to indoor winter woodland cinemas, you'll be ready to deck the halls come Christmas day! 
Santa's little helper Sally suggests:
Clear out the old and make room for the new with Leo Cosendai's much-loved New Year's Day Gong Bath! Tired from 2017? Or from New Year's eve?! Then take a Gong Bath for an evening of calming relaxation and rejuvenation. Allow the powerful sound frequencies and energies produced by the gong to remove the stresses of 2017 from the cells of your body and create balance between the parasympathetic and sympathetic nervous system, the right and left hemispheres of the brain as well as in the meridians and chakras. The gong will produce a blissful state of meditation so you can unwind, restore your body and mind and step into 2018 grounded and centred, with energy and intention. 
Pamela Pick & Mix's top tips:
For a thoroughly Christmassy day, start by satisfying your spendings account at the Christmas markets at LASSCO, Bermondsey; the warehouse space features a late-night market during the Christmas season. You can browse through a medley of vintage bric-a-brac and one-off pieces to find something truly unique for your special someone. Even better, you can browse with cocktail in hand, from LASSCO Bar and Dining, the seasonally influenced small plate restaurant. 
Follow on with a showing of "A Christmas Carol" with an immersive twist; there will be the usual sing-a-longs and audience participation, but also impromptu guitar renditions, eccentric and surprising moments of improv and parlour games, not to mention a sumptuous Christmas feast. 
Says Jingle Bell Jess:
Take your Christmas celebrations back in time, 150 years to be precise, with a Victorian Christmas at York Castle Museum. The Castle and its cobbles will be decked out in traditional Christmas decor and feature gingerbread making activities and the Castle's own Ebenezer Scrooge who will help visitors discover the true meaning of Christmas. 
Recommended by Rebecca-ndy Cane Ellingham:
For a winter extravaganza south of the River Thames, Winterville in Clapham Common has something for every festive elf. Think ice rink, roller disco, mini golf, fairground, backyard cinema, market and even a spiegeltent with special Christmas show as well as the usual rotation of cabaret shows and brass band performances. Winterville is your one-stop-shop for all things Christmas with a touch of frost, in London. 
And from Loretta Clancy Pants Claus:
Keeping south, why not stroll down to the local Christmas market at Pop Brixton? Supporting local traders, the market features artisanal one-off products all in the surrounds of shipping containers stacked one on top of the other to make the unique indoor/outdoor space that is Pop Brixton.
Delivering the goods, Dasher Dawton: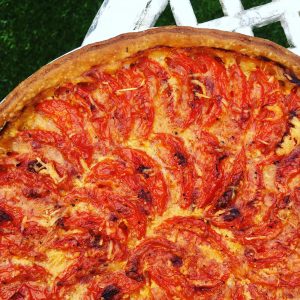 Short of a present for a cook? Get them this great new cook book from Aaron Bertelsen who manages Great Dixter's vegetable garden. I've been cooking my way through it much to the delight of my friends and family.
Second gift idea is an edible Christmas wreath and if you're too late to order then make your own.
And while you're on the Rocket Garden site, why not take out a veggie patch subscription that delivers exactly what you want three times a year with all the instruction you could need; gardening for the non-gardener and you get to eat it all. Go on, rip out one of your flower beds for this, it's much more fun.
Adam Fennel-ho-ho-ho's liking shopping in Cardiff: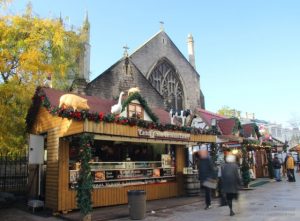 The Welsh capital turns it on for Christmas. There are plenty of covered 'arcades', so you can shop whether rain, hail, snow or shine. There are also lots of Christmas market huts all over the city centre, for a more traditional Christmas market feel. 
It's Edinburgh all the way, from Hannah in Excelsius:
This Christmas, Rogue Village has partnered with The Biscuit Factory, SugarDaddy's Bakery and set designers, Pyrus Botanicals to create an indoor winter woodland inspired cinema in the heart of Edinburgh. Taking the outdoors indoors and screening a smorgasbord of Christmas classics from family favourites through to pure nostalgia, all in a magical winter setting, with seasonal inspired festive cocktails.
And Ramiro Red Nose Ramirez sl-eighs in:
For Christmas gift ideas to suit every festively minded finance person, why not try the perfect financier's 
mug
 – sip your coffee (or eggnog) from it while crunching spreadsheets, writing macros and counting your 
chocolate coins
!