Main Content
03/05/2017
Dune 'Catwalk Concept' stores
This two-minute read explores the metrics by which Four-by-Two quantified the value of their interior design solution for the Dune 'Catwalk Concept' stores, bagging themselves and Dune a DBA Design Effectiveness Award for the stunning results it delivered.
Four-by-Two Design Director, Karen Maxwell on the commercial effectiveness of the stores' design: 
At Four-by-Two, we've always believed that really good design is a powerful business tool, and the Dune 'Catwalk Concept' changed the dynamic of the brand.
The brief was for a new retail concept to assert Dune at the forefront of 'affordable-luxury' footwear in the minds of its customers; and to meet specific criteria to drive growth in key product categories, driving the brand forward internationally.
Quantifying the value of the design
The visual power of the concept is derived from the inverted 'catwalk': literally an upside-down catwalk ceiling feature with shoes strutting the length of the store and up the shopfront; and has become Dune's iconic feature. Looking appealing, welcoming, and easy to shop, it's all about customer engagement.
The arresting visual appeal stops people in their tracks; and although it's hard to measure visual impact empirically, thereafter measuring customer engagement is simple enough; and may be considered in two ways. Firstly, the number of potential customers can easily be captured using footfall counters.
Once potential customers are in the store, the concept focuses on improved customer experience, shop-ability, and practical effectiveness for the retailer. Here the second measurable deliverable, customer conversion, is calculated through sales: which, with modern EPOS till equipment, can be measured as an overall turnover figure against store size; or divided into product categories to measure their relative growth. In these ways, quantifying the value of the design and its commercial impact becomes evident.
Business is booming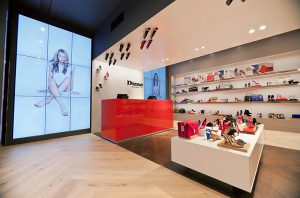 Dune's new-concept stores are booming: with an average 58% increase in sales by £/sq ft. Footfall counts are up: measured at a staggering 70% per quarter higher than old concept. While the improved customer experience and product showcasing has delivered 30% increased sales in accessories and men's shoe ranges. In addition, using compound data, dwell time and numbers of returning customers have also increased – building brand loyalty.
Dune and Four-by-Two's winning Design Effectiveness Award submission can be viewed in full here.