Main Content
13/06/2019
Eight Golds in the 2019 DBA Design Effectiveness Awards
Life-saving apps, digital packtivation, community engagement, creative spaces, and rule-breaking redesign were all on show at the Design Business Association's Design Effectiveness Awards on Wednesday 12 June.
Hosted by BBC presenter Alice Bhandhukravi at the Royal Horticultural Halls in London, the best and brightest of the design world came together to celebrate the difference design makes – its impact measured across a broad section of industry, from global brands to small charities.
Grand Prix winner
Winner of the prestigious Grand Prix this year was the Sensodyne Daily Care Toothbrush, by DCA Design International and GlaxoSmithKline.
And they had plenty to smile about, as the Sensodyne Daily Care Toothbrush is 37% faster to produce than a standard toothbrush, uses 45% less material and is significantly lighter to transport, delivering crucial cost savings. In creating a quality toothbrush which can retail at an affordable price, GlaxoSmithKline and DCA Design International have overcome price as a barrier to the emerging rural Indian market and exceeded delivery forecasts four times over in the first six months alone.
 Gold, Silver and Bronze winners
Golds went to 8 winners, including Calm Harm, a life-saving app for young people at risk of self harm. Design agency HMA and client stem4 celebrated downloads of around a million across the world in more than 170 countries. Over 60% of users have used the 'Calm Harm' app more than once and 93% report a reduction in the urge to self-harm after completing one of its exercises.
Gold also went to Anglian Water and design agency Spring's funfair-themed, interactive, community event, which captured the imagination of the public. Over three million people were reached, and there were over 20,000 actual interactions – three times more than the target – thanks to the radically different corporate communications.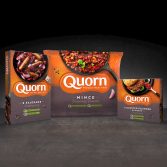 And following the launch of Quorn's new look by Bulletproof, two million new customers have tried the brand for the first time. To keep up with demand, one hundred more employees have been hired and £150 million invested in a new production capacity, earning it a Gold award too.
There were also 33 Silvers and 18 Bronze awards, click here for the full winners list.
Deborah Dawton is Chief Executive of the Design Business Association. "Uniquely, the DBA Design Effectiveness Awards are entered jointly by both client and agency and determined on the evidence and data of the impact design has had in those businesses. Three rigorous rounds of judging culminate on the final Grand Prix winner being selected by CEOs of FTSE 100 companies.
We bring the best and brightest of the design world together to celebrate the difference design makes, its impact measured across a broad section of industry, from global brands to small charities, all of whom saw the benefit that embedding design can bring."
Clive Grinyer was Chairman of the Judges for the first time this year. "For all these companies and organisations, design was fundamental to their success and the driver of differentiation. Whether competing in complex markets, improving customer satisfaction or striving for social improvement, it was clear that for every entry there was never any doubt that it was design that made the difference.
These are great days for design, great human talent from around world centred in the UK to create design impact in commerce, government, the services we use and the products we buy."
Photos
You can find all the photos of the Awards Ceremony here.
Design Business Association
The Design Business Association is the world's most vocal champion of the role of effective design in the creation of business growth. The most important way of communicating the value of design is by measuring its true effectiveness.
The annual DBA Design Effectiveness Awards are both prestigious and authoritative, covering the broad spectrum of the design industry by measuring entries against their own design brief metrics and not against each other.
By integrating business aims and objectives from the start of the partnership, you set the stage for a transparent and accountable relationship between client and designer that provides the best creative and commercial environment for success. Award-winning case studies serve to demonstrate the excellent value for money and return on investment that a coherent, well-thought-out and professionally executed design strategy can achieve.