Main Content
06/11/2019
Take your business to the next level: why getting a mentor is a must
"I was so impressed with the transformational experience Twenty/Twenty had last time, that I asked our Design Director to join the programme too." Two-time Mentee, Andy Gray, Founder & MD, StudioLR
What is Twenty/Twenty?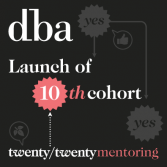 DBA Twenty/Twenty pairs rising industry leaders with established design pioneers for a 12-month one-to-one mentoring relationship. 
Since its launch in 2011, the DBA's flagship business mentoring programme has worked with more than 350 participants from more than 200 DBA member businesses.
What value will it bring to you and your business?
Being mentored will take your thinking to the next level to grow your business – "We've seen massive growth in the last 12 months: doubled our staff, implemented new systems and moved to a new office. Part of that was made possible by the tools I picked up from mentoring, and part from the sounding board of experience."  DBA Mentee. 
Being mentored helps you focus time on the business – "You spend so much time thinking about how to please your clients, and not nearly enough time focusing on the business itself. My mentor was able to put everything into perspective – being reflective yet forward focused at the same time." DBA Mentee.
Benefit from guidance from someone more experienced – "Finding someone with such a wealth of experience from the design industry who can give an objective viewpoint on you and your business is invaluable."  DBA Mentee.
Gain the space to truly define your goals – "The route to finding my goals was nothing like I expected. It involved being asked challenging questions and my mentor helping me to find the answers for myself."  DBA Mentee.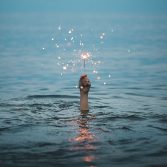 It gets you energised – "I'm back to being excited about my business. I felt the wind had gone out of my sails, but since having a mentor I feel happier, richer, invigorated, more confident and more focused."  DBA Mentee. 
What's the experience like for a mentee?
Richard Taylor, MD, Brandon Consulting
Mentors are highly engaged in the programme too...
"I'm in my second year mentoring with the Twenty/Twenty programme and I absolutely love it." Two-time Mentor, Jonny Westcar, MD, Stormbrands 
Read more about Jonny's mentoring experience here. 
What's the experience like for a mentor?
Tell me about your experience…
Rosalyn: "My mentee and I started in January 19. We have had an easy relationship from the start. She has a determination to understand how she can deal with issues and so she has talked openly about her situation and driven the process quite well. I feel she has been honest about her worries and in her responses and she is a clear thinker – two important areas that help the process." 
If you reflect back now, what impact do you think the programme has had on yourself? 
Rosalyn: "It's interesting that in this case, I am mentoring someone who has been facing business changes that D&P has just been through – some quite specific, and not necessarily common, challenges. So it was good to share my own experience out loud and find someone else in a similar position, it was kind of reassuring." 
What impact has the programme had on your company? 
Rosalyn: "Indirectly helped me/us realise we are not alone! I find sharing experiences valuable; the process of explaining them to someone from outside the business cements them and helps you understand better how you solved your own problems and what you learnt."
 Why did you decide to apply to Twenty/Twenty?
Rosalyn: "I wanted to see if I could support someone outside my business through mentoring as opposed to supporting employees who may feel they have to follow what I say!! I wanted to test my ability to mentor rather than instruct. I also wanted to share my experience with people who may benefit."
How do I sign up?
The programme has gone from strength to strength and applications for 2020 are now open.
To be supported on your journey upwards or to contribute to the success of our future industry leaders, read further details about being a mentor or mentee, and sign up to participate in the next cohort by 22 November 2019 here. 
Image credits:
Lindsay Henwood | Unsplash
Liane Metzler, Unsplash
Kristopher Roller, Unsplash
Rosalyn Scott, MD, Dalziel & Pow