Main Content
28/02/2018
Then and now: The Clearing's journey to effectiveness
A conversation and an insight into the 2017 DBA Design Effectiveness Awards sparked DBA member and independent branding consultancy The Clearing to shift their approach to client work. Their new mantra, "What did we do? And did it make a change?" was implemented agency-wide and has helped to prove the impact of their work and expand their approach beyond a particular project need. Fast-forward a year and The Clearing entered the 2018 DBA Design Effectiveness Awards for the first time, winning not once, but twice. 
We caught up with Richard Buchanan, MD & Co-Founder at The Clearing fresh off the back of these wins at the 2018 DBA Design Effectiveness Awards to discuss the agency's winning journey.
How are you feeling? Any particular highlights from the night, apart from winning? 
Still grinning! Winning a DEA has been a career-long ambition of ours, but as a pure breed brand consultancy, we knew winning was never going to be easy. So to win not one but two awards (Gold & Silver) is a great achievement for us, and we haven't stopped banging on about it since. 
Beyond winning, we had an excellent evening catching up with our clients at London's Air Ambulance and One Feeds Two, as well as the many old friends we bumped into at the ceremony. And Deborah's speech was pretty damn good too! If you haven't heard it, it's on the Design Effectiveness Awards website, and well worth a watch.
Building on your article with the DBA from June last year, what was it exactly about attending the Awards in 2017 that spurred you to a) revisit your business model, and b) enter in 2018?
The Clearing is a new breed of brand consultancy firmly grounded in commercial reality. We've always worked with ambitious businesses helping them deliver their commercial ambition – growing revenue, increasing profit and entering new markets and it's the strength of our ideas, creativity and strategic know how that enables us to do this. 
That said while attending last year's DEA ceremony it got us thinking about the way we talk about results – and we started being much more upfront about the way we talked about the impact of our work.
Also, our conversations with the DBA helped clarify the judging criteria which made us look again at recent projects where we created seismic shifts for two of our clients – from a new helicopter for London's Air Ambulance to introducing national food partners to One Feeds Two.
What do The Clearing's DEA wins mean for the company? Both internally and in terms of client relationships and new business.
Anyone working within the creative industry who tells you they don't care what people think of their work is either lying or frankly, not good enough. As designers, we know how hard good ideas are to come by and how many of those good ideas are lost along the way. From college crits to client presentations, it's the constant knocking of ideas that makes us designers such a fragile, insecure and needy breed. 
So, at The Clearing, it's important the team see their work celebrated, gaining the recognition it deserves across the industry. And I'm hoping the credibility our Design Effectiveness Awards bring will help accelerate our new business effort. I'll let you know how that goes this time next year. 
In your opinion, what do the Awards contribute to the design industry?
It's quite simple, the awards celebrate powerful, commercially successful design – it's design that means business.
And for the relationship or way of working between an agency and their client?
We always comment that we do our best work with our best clients ­and you can't win a DEA without great clients, great work and a strong relationship.
What was the most difficult part of entering the Awards for you? 
Knowing what to leave out. There's always that tendency to cover the entire branding project from brief to solution – we had to focus on specifics, and on demonstrable change.
And the most enjoyable?
The Jagerbomb fuelled official winners photographs tell their own story­­. 
What would you say to an agency similar to yours that is considering entering the awards?
Go for it! Focus on a project where your design work and thinking provided a pivotal point in a project and supercharged the outcome – because that's the story the judges are looking for.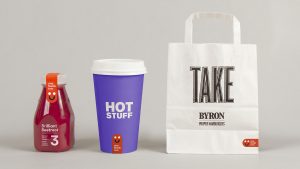 Read the winning case studies
A brand-new logo, 'The Smile' was created during a brand refresh that challenged the 'pulling on heartstrings' tactic commonly associated with charities, and it clearly highlighted how even the smallest actions, such as buying a meal, can have a huge positive impact. Read on.
With only one helicopter in existence, 63 flying days were forfeited in 2015 due to maintenance, therefore acquiring a second helicopter became a strategic priority. But for a brand that relies on charitable donations, raising an additional £1.2 million per annum for another helicopter seemed an almighty challenge.
A strategic redesign of London's Air Ambulance's most iconic asset, its helicopter, was undertaken. The new livery turned the helicopter, as well as the rapid response vehicles, into powerful communications tools maximising awareness of the charity. Read on.