Events & Training
Whether junior designer or design leader, account handler or MD everyone benefits from fresh perspective, knowledge-share, new insights and debate.
Our events and training courses are renowned within the industry for their quality, relevance and proven capability to boost the confidence and performance of individuals and teams.
From lively networking events to skills development workshops, from in-depth business growth programmes to stimulating round-tables, our extensive range of events and training has something to offer every member of your team, across all roles and levels within your business.
Main Content
Twenty/Twenty Mentoring
Since its launch in 2011, the DBA's flagship business mentoring programme Twenty/Twenty has worked with more than 550 participants from more than 300 DBA member businesses. As we move into our 14th cohort, the DBA would like to thank all of our past and current mentors and mentees for being part of our mission to tap into the wisdom and vision of the current leaders in the design industry, and inspire the next generation to make more informed decisions about their businesses, their people and themselves.
DBA Twenty/Twenty pairs rising industry leaders with established design pioneers for a 12-month one-to-one mentoring relationship. Read on to find out how you can be part of this established and successful programme. Applications are open, the application forms are linked below:
Mentors who want to contribute to the success of our future industry leaders, and
Mentees looking for an experienced sounding board and support on your journey upwards.
The fees to join the programme as a mentee are £2,999+vat, discounted to £1,750+vat for DBA Members.  
What is the programme all about?
Designed specifically for individuals who want to take their thinking around business issues to the next level.
Aimed at helping rising industry leaders define their goals and grow their business. 
A process which helps you to make better-informed decisions about your business, your team and yourself.
Who are the mentors?
The calibre of mentors involved in the programme is unrivalled in the design industry and our in-depth matching process ensures we match you with a mentor who fits your specific needs. Utilising the wisdom and vision within the DBA's membership, our mentors are the people who have years under their belt running the inspiring businesses we all secretly admire.
MD/Owners and Directors from DBA member businesses like:
2LK

Coley Porter Bell

Dalziel & Pow

Dragon Rouge

ELSE

Good

JDO

OPX

Pearlfisher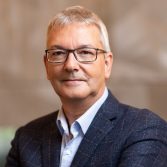 Eric Quint, former CDO at 3M discusses being a mentor:
Why did you decide to become a Twenty/Twenty mentor?
EQ: "This mentorship is a wonderful way to share lessons learned to inspire and support design leaders, making them more confident, fearless, and effective on their personal growth path."
Why is the programme valuable?
EQ: "The Twenty/Twenty programme is a win/win for both mentees and mentors to learn and grow by sharing experiences and challenging each other in an open dialogue and safe environment."
A word for future mentors…
EQ: "Mentorship is always a great way to reflect on your own journey as a design leader. As a Twenty/Twenty mentor, you will be an invaluable resource to motivate, inspire and encourage the next generation of design leaders to grow and increase their impact."
So how does the programme take you from good…to great?
Twenty/Twenty will provide you with a highly experienced design industry confidant. Someone you can discuss both the day to day and the bigger picture with. As you work through the programme with them, they will help you to develop your thinking, increase your confidence and hone your ability to reach your own conclusions on the steps that are right for you and your business.
Become a mentee

Who can apply?
MDs, owners and partners of small and medium design agencies, senior team members from medium to large sized agencies, as well as in-house design team members. The programme is open to DBA members and non-members.
What you get?
One-to-one, face-to-face mentoring from a design industry expert over a 12 month period from January to December, with a minimum of nine meetings recommended.
With your mentor, you will tailor your experience and expectations to your individual requirements and needs. 
You'll work through establishing your goals and agreeing how you will work together before embarking on your unique journey.
Along the way, you'll be fully supported by mentoring skills training from leading mentoring experts at key points throughout the year.
Training in key skills needed for successful mentoring relationships at key points throughout the year.
Exclusive access to a wealth of clear, constructive and tailored guidance and resources to support you along the way.
Continuous support from the DBA team to ensure you maximise your experience.
How to apply
Applications are open.
The fees to join the programme as a mentee are £2,999 + vat, discounted to £1,750 + vat for DBA Members.  
Here's what others had to say
Richard Taylor, Managing Director at Brandon Consulting talks about his experience of being a mentee.
Dan Black, Founder & Creative Director at Detail Design Consultants discusses being a mentee: 
Why did you decide to participate in Twenty/Twenty?
DB: "An opportunity to learn from others' experience, to re-engage with fellow creatives, to feel less isolated. To help set more goals, and drive enthusiasm, which can be hard when steering the ship and not always seeing the bigger picture."
How would you sum up your mentoring match?
DB: "Well-matched, similar character, but more experienced and a joy to listen/engage with on all things, someone to aspire to."
In what ways have you benefited from your mentoring?
DB: "A more energised, driven and reassured Creative Director, with a greater sense of confidence – and some new ideas."
"Twenty/Twenty is a great opportunity to learn from your peers, to grow as a person and to re-energise."
Become a mentor

As a DBA mentor you will support an aspiring industry leader as they move themselves and their business from good to great. Your role will be to help them expand their ability to answer their own burning questions and support them to create a framework by which they can make fundamental decisions to drive their business forwards.
Give something back and nourish the growing talent in the industry. You'll be able to take the skills you learn as a mentor back into your own business and make a significant difference to the development of your mentee in a relatively brief space of time.
What's the commitment?
Volunteer your time – a minimum of nine meetings of around an hour with your mentee over 12 months.
Full development along with your mentee and other mentors at key points throughout the year.
Continuous support from the DBA team as well as clear, constructive and tailored guidance and resources.
"You've got to look at being a mentor or a mentee as an opportunity – you should grasp it while you can and no one else does it the way the DBA does. It's a pretty low investment as a mentor with very high developmental benefits and reward."
Jonny Westcar, Co-founder, Studio Phoenix
Twenty/Twenty mentor 
Get in touch
If you have any questions about the mentoring programme, please contact Natasha Papa, Head of Programmes at natasha@dba.org.uk. You are able to book in a call with Natasha here to discuss the programme in more detail. Applications are now open.

Top 5 reasons to have a design industry mentor, in the words of our mentees.
Take time to focus on the business.
"You spend so much time thinking about how to please your clients, and not nearly enough time focusing on the business itself. My mentor was able to put everything into perspective – being reflective yet forward focused at the same time." 
Be guided by someone more experienced.
"Finding someone with such a wealth of experience from the design industry who can give an objective viewpoint on you and your business is invaluable." 
Define your goals.
"The route to finding my goals was nothing like I expected. It involved being asked challenging questions and my mentor helping me to find the answers for myself." 
Get energised.
"I'm back to being excited about my business. I felt the wind had gone out of my sails but since having a mentor I feel happier, richer, invigorated, more confident and more focused." 
Take your thinking to the next level and grow your business.
"We've seen massive growth in the last 12 months: doubled our staff, implemented new systems and moved to a new office. Part of that was made possible by the tools I picked up from mentoring, and part from the sounding board of experience."
"The design sector is fiercely competitive – there's a constant undercurrent of rivalry both within agencies and between agencies. Mostly, these competitive streaks are fuelled by passion, that in turn sparks amazing work. Given this backdrop, it's incredible how utterly brilliant and sector defining the Twenty/Twenty mentoring scheme really is. I've now been involved in three separate cohorts and I've been consistently blown away by the levels of trust, professionalism, honesty and integrity that underpin the process. This, in my opinion, is the DBA at its absolute best."
Andy Sexton, Partner & Executive Creative Director, 2LK
Twenty/Twenty mentor