Main Content
DBA Roundup
Keep abreast of the latest guidance and advice, tap into essential need-to-knows and soak-up experts' insight with the DBA Roundup. Browse below and sign up to receive our regular Roundup email.
News, events and insights for you and your business:
---
Our latest Annual Survey Report is hot off the press and launching next month. Where last year survival was the key theme for many design businesses, this year's Report shows agencies are at their most optimistic since 2015 (pre-EU referendum and the advent of Covid).
Over 60% are expecting to bolster staff numbers in the coming year, but recruitment and retention are a big challenge. With many agencies struggling to find the right people to match their ambitions, how can we best shape our teams for future success? We've got more on that in our roundup below. 
To get a first look at where your numbers are in comparison to your peers' and for insights to help track your financial performance, members can join us online on 13 October for an exclusive webinar delving into the Report's findings (registrations open soon). And if you're not yet a DBA member? Now's a great time to join to get your hands on a copy of the Report. 
Save the date: 13 October
The 2021 DBA Annual Survey Report will be launched exclusively to DBA members during an online webinar at 3 to 4.30pm on 13 October. Key findings and trends will be presented and distilled by Moore Kingston Smith's Esther Carder, enabling you to benchmark your business. Registrations open soon. 
Marketing your Design Business | DBA online training
Focus your attention on the right marketing tactics and stand out from the crowd.
Four in-depth sessions with DBA Expert Lucy Mann to elevate your agency's marketing.
Taking place on 16, 18, 23 & 25 November, 10.30 – 12.00
Coming up:
---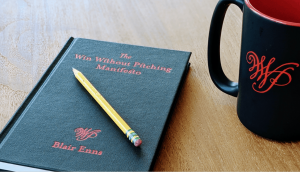 Win Without Pitching® with Blair Enns
There's still time to book for this three part masterclass starting tomorrow and now being delivered by Blair Enns. Find out more & book >
---
Managing People
A two-part online training workshop on 12 & 14 October covering the key components of being a good manager. Find out more & book >

---
Project Management
Learn neat tricks and tips to get your projects running smoothly at this two part online workshop on 2 & 4 November. Find out more & book >
---
Negotiation Skills
Develop your skills and confidence with this interactive workshop on 9 & 11 November and you'll relish the next opportunity to negotiate.
Find out more & book >
DBA Twenty/Twenty mentoring
Industry leading business mentoring for those working in design.
Get in touch if you would like to find out how a highly experienced design industry confidant can develop your thinking and help you make the right decisions. 
Now open for applications. Find out more >
Image credits:
Sharon McCutcheon | Unsplash
Dstudio Bcn | Unsplash
Win Without Pitching®
Tengyart_ | Unsplash
Volodymyr Hryshchenko | Unsplash
Christophe Hautier | Unsplash