Main Content
23/11/2020
"We're now convinced design is key."
For Albury Organic Vineyard – a small, family-run business in the beautiful Surrey Hills – there's no doubt in their minds that design has been key to turning around the profitability of the company and in strengthening its resilience to the economic uncertainty brought about by COVID-19.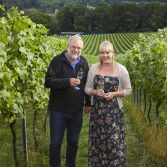 Despite producing award-winning English wine of the highest quality – served to the Queen at her Diamond Jubilee celebrations no less – the vineyard was hindered by a small site (just 12 acres in size) and an outdated brand and website. "As an analogy, you could say the product was 'Waitrose' whilst the brand was 'Tesco'" says Ginetta George, MD of Detail Design.
George heard Albury's founder Nick Wenman speaking at a local networking event. "You listen to Nick talk about all the care, attention and passion that goes into his wine", she says, "and you're ready to hand over £30 for a bottle". But the brand was another story. "It looked like it was a completely different company," reflects George.
Recognising the discord between the quality of the product and how the outdated brand was perceived, George made a bold approach to Albury setting out the value design could bring to the business. "I just knew that helping them align the brand to who they were as a business, would help them enormously," she says.
And that, it did. Sales soared 40% and direct to consumer sales grew 120% in the 18 months following the rebrand, greatly increasing profit per bottle. The new brand, label and web design elevated Albury Vineyard within the industry, enabling it to confidently stand alongside much larger, established vineyards in the UK and completely turning around the profitability of the company.
"When you add to this heavenly liquid, a bottle, cap and label redesign which must be one of the most impressive packaging transformations I have ever seen, this is a wine operating at the very highest levels of world rosé production," reported The Vineyard Magazine's Matthew Jukes.
The sophisticated design has brought to life the heritage and quality of Albury's wine and the vineyard's dedication to organic and biodynamic culture; the fine English wine now looks every bit as good as it tastes.
"Our previous view of design was a 'nice to have' not a 'need to have', but now our opinion has changed completely," says Lucy Letley, Nick's daughter and business partner. "The re-brand has made a huge difference to our business."
Albury soon discovered the effectiveness of the new brand and e-commerce website designed by George's business' Detail Design. When the website launched, it took more sales in two months than it did in the entire previous year. And newly equipped with clear brand guidelines and assets, the vineyard also gained the confidence to step up its marketing and social media reach, more effectively engaging potential customers at every touchpoint and elevating its profile, both in terms of sales and brand awareness.
"It's lovely to be recognised as a top-quality producer now", says Letley, "our products have always been high-end but now the branding reflects that and seeing the upturn in orders coming through our website has been very rewarding".
"Sorting out your brand and website design is even more important now than ever," says George, "with the pandemic and continuing lockdowns, people are having to make choices online and if you have a fantastic product but your brand says something completely different, or your website is poorly functioning, you are letting your business down."
Albury's investment in design has put them ahead of the game in this respect, and it's delivered a level of resilience to the vineyard this year.
"At times during the pandemic our business has had to close to visitors, and we lost all of our restaurant trade overnight," says Letley, "however, our web sales tripled and it's been exciting to see the increase in direct sales of our wine," she adds.
Letley is clear that had Albury not invested in the new website design, it would have lost out on those direct to consumer sales, which, she says "would have been catastrophic to the survival of the business." Awareness of the brand has also increased since the re-brand, allowing Albury to reach out to larger numbers of social media followers reaping rewards between the two lockdowns. "When we reopened to visitors over the summer,' reflects Letley, "all our tours and open days were fully booked".
UK firms cite design as increasingly important when combating the effects of recession, with evidence showing that in the UK, for every £1 invested in design, businesses can expect over £20 in increased revenues and over £4 increase in net operating profit.
When it comes to weighing up business priorities right now and whether that should include design investment, Letley is clear; "we're now convinced design is key – your product has to be good of course, but the design of your brand is equally important, if not more so!"
Albury Vineyard and Detail Design won a DBA Design Effectiveness Award in recognition of the commercial impact of their design.