Main Content
2021 DBA Annual Survey Report launch | DBA Member-only webinar
Financial planning won't give you a crystal ball to predict the future; it's about preparing yourself and your business for what the future might hold by understanding your stress points and identifying opportunities. The key to successful financial planning is data, and for design agencies, the most in-depth and robust data can be found in the DBA Annual Survey Report.
As we emerge from the pandemic we see a design sector that has trimmed down a little in terms of income and headcount – but is perhaps better placed now to take advantage of the opportunities that lie ahead, than ever before. As agencies bounce back how will you plan for different eventualities?
Join us on Wednesday 13 October at 3pm at the launch of the 2021 DBA Annual Survey Report via an exclusive DBA member-only webinar. Esther Carder, Partner at Moore Kingston Smith, will present a detailed analysis of the benchmarking data and trends across key performance metrics affecting design agencies.
She'll cover:
Sector confidence levels as we emerge from the pandemic
Income per head, plus charge out, utilisation and recovery rates
Difference between agencies based on location or size
Salary levels and staff benefit packages as issues around recruiting talent become more commonplace
Esther will give insight into how to apply these valuable findings to your business to prepare you for what lies ahead. The DBA Annual Survey Report is the most valuable tool you will find to help you plan effectively for 2022.
Interested in becoming a member?
DBA Membership provides you with a whole host of benefits, including exclusive access to the design industry's most sought-after benchmarking tool, the Annual Survey Report.
For more information on what membership could do for you and your business, email Adam Fennelow, DBA Head of Services.
About Esther Carder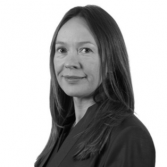 Esther has been a partner specialising in the media and marketing services industry for 17 years, an area she is passionate about. She describes the sector as not only interesting, but motivating, because of the energetic and entrepreneurial people it attracts. As well as providing clients with audit and tax services, she also advises regularly on employee inventive schemes, valuations, company restructures and M&A transactions.
Esther particularly enjoys helping clients to grow and improve their performance through the range of Strategic Growth Services that Moore Kingston Smith offer. Esther speaks regularly at seminars and is widely quoted in trade press.
The DBA Annual Survey Report is sponsored by: