Main Content
12/12/2018
Merry Christmas from the DBA
Wishing all our members and industry friends a very merry Christmas and a happy New Year! 
Here are a few festive tips and tipples from the DBA team to get you in the spirit…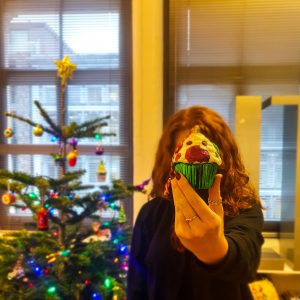 Christmas Reeve is getting in the groove while she bakes a cake or two with this seasonal playlist on Spotify… Four hours and 43 minutes of pure festive joy. Why not take a listen?
Lassie Lukins' Christmas tip: Need help faking your reaction to your pressies….
…Watch this
Sushi-powered Papa has the answer to no-hassle mulled wine: 
"My recipe for mulled wine is a little non-traditional but I have been known to mix this fancy little number with red wine for a no-hassle mulled wine in a hurry. With an added cinnamon stick for authenticity, of course."  
Deborah is taken to colourful flights of fancy, but this perfect winter warmer is easy to do and if you follow her recipe in 3 months time, you'll be everyone's best friend! 
400g elderberries, 750ml gin, lemon peel, 150g of sugar, and 1L Kilner jar.
Ramiro loves his food and he's missing his traditional Venezuelan Christmas tucker, most especially 'Hallacas' – a tasty mixture of beef, pork, chicken, capers, raisins, and olives that is wrapped in maize and plantain leaves and tied up with string into a parcel and then boiled or steamed afterwards. 
Celebrating her new role at the DBA this month, Jess suggests wrapping presents as you buy them rather than facing down the horror of a midnight wrapping session on Christmas Eve, when all you really want to be doing is sitting in front of the telly/fire/both with a large Baileys.
Adam thinks Poffertjes – mini dutch pancakes served with icing sugar and toffee sauce – are definitely something to write home about. Search them out at a Christmas Market near you or check out this recipe. 
Hoping for a white Christmas, Hannah suggests hot-footing it to one of the National Trust properties and taking part in their many festive activities, like at this urban gem.
"Meet Santa, discover the wetlands boardwalk on a frosty morning, take a festive carriage ride around the park and check out Psycho the fish at the aquarium – he has to be seen to be believed." 
Comms Queen Clancy's (and her Corgi's) top tip is to check-out the art galleries and museums gift shops online.
"My favourite is the Royal Academy's where you'll find a treasure trove of wares – from jewellery to books and of course christmas cards and decorations – handcrafted and designed by artists, including Royal Academicians themselves. Pick up something unique and support the UK's cultural institutions at the same time!"
From all of us at the DBA, wishing you a merry Christmas and a happy New Year!
See you in 2019 for a year packed with activity that will continue to champion British design, and support you, your team and your business.