Main Content
14/11/2018
The repositioning of Vitalite
The dairy-free sector has hit the mainstream. 10% of the UK population are now avoiding dairy as part of a healthy lifestyle, or due to an intolerance. For Vitalite, a dairy-free spread, this was a huge opportunity for growth, but it needed to shake off its established identity as a sunflower spread, rather than a credible dairy alternative.
We take a look at how the repositioning of Vitalite as a credible dairy-free brand has led to huge success, with the DBA Design Effectiveness Award winner now selling three packs every minute.  
With one in five Brits now regularly shopping in the free-from section and with the dairy-free market growing at a rapid rate, Dairy Crest's Vitalite was in a prime position to take a portion of the market, but the opposite was happening. Vitalite had been the number one selling dairy-free spread for many years, but Pure had taken over. With new competitors coming to the market, such as LactoFree and Koko, Vitalite was losing relevance. 
The problem for Vitalite was that most people thought of it as a sunflower spread; the one behind the catchy jingle from the 1980s advert. They didn't see it as a dairy-free spread, but that's exactly what it is. To reach the younger, health-conscious audience, they needed to embrace their dairy-free credentials, which for years had been seen as a necessary compromise. Collaborating with BrandOpus on a new identity and pack design, they looked to build brand equity within the growing dairy-free sector, whilst ensuring they didn't put off their existing, loyal consumers. 
Key objectives:
Keep Vitalite loyals, whilst reaching out to a new younger dairy-free consumer
Shift perceptions of Vitalite to build brand equity in the dairy-free sector
Drive penetration in the dairy-free sector
Allow room for future NPD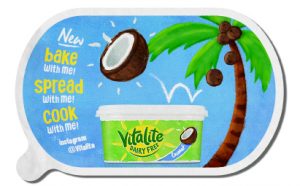 Vitalite already had a joyful brand image – thanks, in part, to the trappings of its 80s advert. It gave them the ideal platform to celebrate the dairy-free message. Sunshine had long associations with the brand, but by moving away from the cartoon-like character of the sun on the old pack, and embracing the vitality of sunshine with a new illustration, they promoted the natural and positive lifestyle choice of Vitalite being dairy-free. This continued throughout the design with the painted texture creating a natural feel. They also elevated the dairy-free description to the brand identity itself, making it the overarching selling point. 
Overall, the new design is much more contemporary, whilst remaining distinctly Vitalite with its green and yellow colours that help maintain the recognition of existing customers, and ensure stand out on the fixture.
Headline results: 
Regained number one dairy-free spread (volume) position
202,000 more units sold than previous year 
150,000 new households buying Vitalite 
£508,000 growth in value 
The results speak for themselves. The rebrand has attracted new customers, driven penetration and increased value and volume sales growth. Perhaps most significantly, Vitalite regained its position as the number one dairy-free spread in the UK, gaining 17% more volume than Pure. 
Since rebranding, Vitalite has successfully reached a younger audience. In the year after launch they saw 150,000 new households trying out the product, and 1.2 million households buying it overall. Its penetration increased by 12%, despite an aggressive competitor landscape and Vitalite's value grew by £508,000 – that's up 11.6%. 
Off the back of the success, Vitalite is now producing another dairy-free spread: Coconut, which has brought new consumers to the market. This promising variant is strengthening their number one spot in the dairy-free spread category. 
BrandOpus and Dairy Crest won a Gold DBA Design Effectiveness Award for the rebrand of Vitalite. You can read their winning case study in full here. 
DBA Design Effectiveness Awards
A DBA Design Effectiveness Award win represents independent and authoritative recognition of the value of your work and will enable you to powerfully demonstrate your ability to deliver competitive advantage through design. 
The 2019 Entry pack is now available at: effectivedesign.org.uk     The entry deadline is:  5pm GMT, 30 November 2018