Main Content
12/09/2017
Connecting design to strategy and the value of 'design enculturation'
The case for design sitting in the c-suite of business is clear, with the Design Management Institute asserting that in the last ten years, design driven companies have outperformed the S&P 500 by 228%.
IBM can attest to this. With a finger-on-the-pulse style response to the growing evidence around design driven organisations delivering on customer experience and returning value directly to business, in 2012 the organisation invested $100 million into the 'design enculturation' of its staff and business practise.
The result was the IBM Interactive Experience (iX) division. The creation of IBM iX saw 1000 new employees recruited, 10 new IX labs created, and three award-winning digital agencies acquired in the same month in 2016. The division supports and drives IBM's focus on becoming strategically design-driven and prioritising the user and their motivations, a significant shift away from its previously favoured engineering-driven 'features first' focus.
With this user-first approach, IBM iX was able to streamline a complex sales process for T-Mobile USA Inc. T-Mobile enlisted IBM iX to create and design a custom sales solution that would enable sales reps to dedicate more time to customer service.
The user-focused design solution to T-Mobile's sales process included a redesigned experience within Salesforce, and iPad apps that resulted in the elimination of 112 clicks from the sales process, leading to an average of seven hours a week saved for sales reps, enabling them to provide a superior customer experience.
This, and more strategic design-led work, has seen IMB iX named the largest digital agency network in the world, and ranked No.1 in the UK in the same category by eConsultancy.
GE Healthcare's General Manager Healthcare Experience, Global Design, François Lenfant stated in 2011, "Design, if not connected to the key strategy of the company, cannot provide the right response." This is why GE Healthcare bases their design practise in an organisation-wide philosophy: 'The Magic of Science and Empathy'. It helps to drive end results towards more empathetic and caring design that improves user experience.
GE Healthcare's design team is based in a warehouse in Buc, France, where product designers to graphic designers and ergonomic user interaction specialists work with engineers to remain at the forefront of healthcare design innovation. Lenfant's mantra, "Change before you need to" filters through the business's mind-set.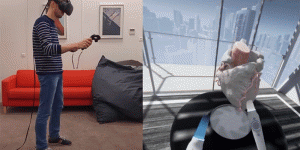 It was GE Healthcare's "open innovation and design thinking processes," that have helped VR become an important new tool in healthcare and diagnostics. The product is currently being tested with a customer in France, with plans to expand to the United States and Asia.
Design leaders understand the power of design to produce significant customer impact and business return, and when the Board is like-minded, great things can happen, as both IBM and GE Healthcare can attest.
Says GE Healthcare's François Lenfant, "We don't design products for customers, we design solutions for people."